There's no escape from the corporations that run India
Domestic mega-corporations' tentacles extend into every aspect of Indian life – but no one dares speak out against them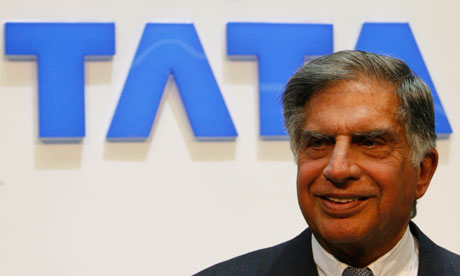 RIL is one of a handful of corporations that run India. Some of the others are the Tatas, Jindals, Vedanta, Mittals, Infosys, Essar and the other Reliance (Adag), owned by Mukesh's brother Anil. Their race for growth has spilled across Europe, central Asia, Africa and Latin America. Their nets are cast wide; they are visible and invisible, overground as well as underground. The Tatas, for example, run more than 100 companies in 80 countries. They are one of India's oldest and largest private sector power companies. They own mines, gas fields, steel plants, telephone, cable TV and broadband networks, and run whole townships. They manufacture cars and trucks, own the Taj hotel chain, Jaguar, Land Rover, Daewoo, Tetley Tea, a publishing company, a chain of bookstores, a major brand of iodised salt and the cosmetics giant Lakme. Their advertising tagline could easily be "you can't live without us".
The era of the privatisation of everything has made the Indian economy one of the fastest growing in the world. However, like any good old-fashioned colony, one of its main exports is its minerals. India's new mega-corporations are those who have managed to muscle their way to the head of the spigot that is spewing money extracted from deep inside the earth. It's a dream come true for businessmen – to be able to sell what they don't have to buy.
There were no reports either about the Unlawful Activities Prevention Act and the Chhattisgarh Special Public Security Act, which make even thinking an anti-government thought an offence. Or about the mandatory public hearing for the Tata Steel plant in Lohandiguda which local people complained actually took place hundreds of miles away in Jagdalpur, with a hired audience of 50 people, under armed guard. Where was free speech then?
But which of us sinners was going to cast the first stone? Not me, who lives off royalties from corporate publishing houses. We all watch Tata Sky, we surf the net with Tata Photon, we ride in Tata taxis, we stay in Tata hotels, sip our Tata tea in Tata bone china and stir it with teaspoons made of Tata steel. We buy Tata books in Tata bookshops. Hum Tata ka namak khatey hain. We're under siege.
If the sledgehammer of moral purity is to be the criteria for stone-throwing, then the only people who qualify are those who have been silenced already. Those who live outside the system; the outlaws in the forests or those whose protests are never covered by the press, or the well-behaved dispossessed, who go from tribunal to tribunal, bearing witness, giving testimony.